In less than a decade, the iOS platform has changed the way we think about mobile communication.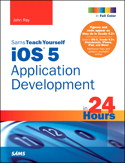 As new devices hit the market with added features and capabilities, developers rise to the challenge of creating apps that increase productivity, solve a problem or just let you have a little fun while sitting around the airport.
Sams Teach Yourself iOS 5 Application Development in 24 Hours
author John Ray says, "The excitement and innovation surrounding iOS and the sheer enjoyment of using iOS devices has led it to become the mobile platform of choice for users and developers alike."
That leads us to today's trivia question…

What popular presentation software application, created by Apple, allows users to easily share content with animated charts and media?

Answer correctly in the comments section below and three randomly selected winners will receive:
Rules: Answer question by leaving a comment below (one per person, all duplicates will be discarded) by 12:01 am EST on March 3, 2012. Three winners will be randomly selected from all correct answers and notified by a comment from the InformIT team on their post.
Want to learn more?
> READ: Exploring Xcode's Interfact Builder (PDF Sample Chapter)
> DOWNLOAD: Learn Mac /iOS Developer ePub Preview (Excerpts from current and forthcoming titles on Mac and iOS Development)
Tell your friends! We'll be announcing #TuesdayTrivia twice a month via @informit on Twitter. Stay tuned for more great prizes.