Understanding and using HTML5's new structural elements is the key to creating standards-based browser applications with extraordinary richness and power.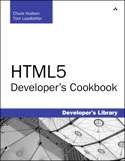 HTML5 Developer's Cookbook authors Chuck Hudson and Tom Leadbetter say "HTML5 is not just about interactive voodoo with JavaScript APIs and video coolness." There are more than 20 new elements you can use to author your web pages, adding semantics to deliver more accessible, reusable content.
That leads us to today's first trivia question of 2012…
Looking at the history of web development, what well known community is known as WHATWG?
Answer correctly and three randomly selected winners will receive:
Rules: Answer question by leaving a comment below (one per person, all duplicates will be discarded) by 12:01 am EST on February 18, 2012. Three winners will be randomly selected from all correct answers and notified by a comment from the InformIT team on their post.
Want to learn more? Read an excerpt from HTML5 Developer's Cookbook or visit the HTML 5 Web Development Resource Center.
Tell your friends! We'll be announcing #TuesdayTrivia twice a month via @informit on Twitter. Stay tuned for more great prizes.