We have reached the end of yet another week of InformIT giveaways. We're wrapping up Mobile Programming week with a $25 Amazon gift card, which three lucky winners will receive! For our winners who missed out on this week's other giveaways, you might want to use that gift card for:
July 23: PhoneGap Essentials: Building Cross-Platform Mobile Apps by John M. Wargo

July 24: iOS Programming: The Big Nerd Ranch Guide, 3rd Edition by Joe Conway and Aaron Hillegass

July 25: Android Wireless Application Development Volume I: Android Essentials, 3rd Edition by Lauren Darcey and Shane Conder

July 26: Sams Teach Yourself Windows Phone 7 Application Development in 24 Hours by Scott Dorman, Kevin Wolf, Nikita Polyakov, and Joe Healy

Rules: You may have up to four entries.

1. Be an InformIT fan on Facebook

2. Follow us @InformIT on Twitter

3. Retweet InformIT's daily twitter post containing "#17daysofgiveaways" and a link to the Giveaway blog post

4. Post a link to the giveaway on your personal blog

Comment on this post to let us know how many entries you have accumulated. Indicate if you are a fan on Facebook, a follower on Twitter, if you have retweeted, and a link to your blog. (For Facebook and Twitter, no need to re-like or re-follow each day, just confirm that you are still a fan/follower!) Every day we will be giving away the prize to three randomly selected entrants. More entries raise your chances of winning. Your comment must be posted by midnight, EST. We will create a list of every entrant, and you may have your name on the list up to four times. Each entry will be numbered in ascending order according to order of comments on the blog, and winners will be selected using random.org. Winners will be notified with a comment from me containing my email address and instructions for claiming your prize. You may only win once each day, but you may win more than once throughout the month.

Comment Template:

Number of entries: ___

Fan on Facebook? Y/N ___

Follower on Twitter? Y/N ___ Your Twitter handle: ____________________

Retweeted? Y/N ___

Posted link on personal blog? Y/N ___ Link to your blog: _________________________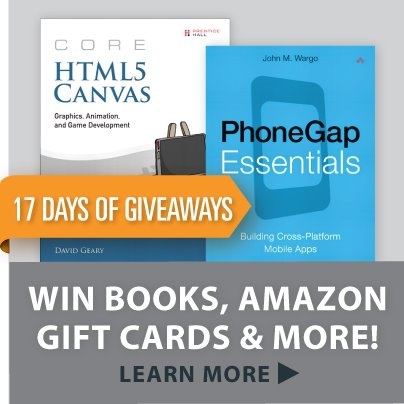 NO PURCHASE OR PAYMENT OF ANY KIND IS NECESSARY TO ENTER OR WIN. A PURCHASE WILL NOT IMPROVE YOUR CHANCES OF WINNING. THIS GIVEAWAY WILL BE CONSTRUED AND EVALUATED ACCORDING TO UNITED STATES LAW.

Participation constitutes entrant's full and unconditional agreement to and acceptance of these Official Rules. The "17 Days of Giveaways" ("Giveaway") will begin at 12:01 am Eastern Daylight Time (EDT) on July 9, 2012 ("Giveaway Start Date"), and ends at 11:59 pm EDT each weekday through July 31, 2012 ("Giveaway Period"). InformIT is an imprint of Pearson Education. Giveaway is sponsored by Pearson Education, Inc., One Lake Street, Upper Saddle River, NJ 07458 ("Sponsor") who is solely responsible for all aspects of this Giveaway.

Eligibility: The Giveaway is open to legal residents of the United States and the District of Columbia ("U.S.") only and shall only be construed and evaluated according to U.S. law. All online entrants must have a valid email address. Limit four (4) entries per person.