With all the attention our The Mythical Man-Month book has been getting regarding the "tech surge" we decided two weeks ago to give away a set of 10 books to one lucky winner to share with their software team.
To enter to win, each participant listed their favorite Fred Brooks quote. Our winner was chosen at random. Thanks to all those who entered. Follow me on Twitter for more giveaway opportunities, latest news, and more @AndreaBledsoe.
Here are a few: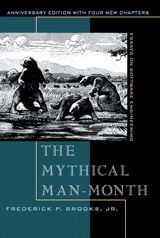 "Adding manpower to a late software project, makes it later."
"The bearing of a child takes nine months, no matter how many women are assigned."
Our winner Jose Luis Manners chose this infamous Brooks quote ""The management question, therefore, is not whether to build a pilot system and throw it away. You will do that. […] Hence plan to throw one away; you will, anyhow."
Mr. Manners said he entered the giveaway because he's based in the Washington, DC area and does a lot of consulting work where software projects have gone wrong. He said it's nice to be able to advise stakeholders and development teams and use of some of the anecdotal stories from Dr. Fred Brooks.