What Oracle Technologies Are You Looking to Learn?
Dan Hotka, a prolific author and trainer on Oracle technologies, prepared this handy guide to his multiple video courses and book which all published in recent months.
Without further ado, Dan, please take it away!
''Hello, I'm Dan Hotka, a seasoned Oracle database professional and a long-time author of Pearson books, most recently Toad for Oracle Unleashed. I have been working with the Oracle database for over 30 years and am a recognized outside expert by Oracle Corp. I regularly speak at Expert Summits, user groups and trade shows around the world.
In partnership with Pearson, I have recently produced a series of video courses on various Oracle topics that are based on classes I've been teaching. These can be viewed thru the Safari Books platform or purchased here at InformIT. These videos all have hands-on exercises and I give learners the ability to follow along as I cover the various topics in detail.
We started with an important class, Oracle SQL Performance Tuning for Developers. It instructs on how to use Oracle syntax and various tools to understand and correct performance problems with SQL code. I think all Oracle developers should watch a course like this. It's full of scripts and tips that are available for use as part of the course download. In my opinion, the lectures on how Oracle uses indexes, how to tell if Oracle is using your index, and how Oracle chooses indexes for use, is worth its cost.
We then produced two Oracle PL/SQL courses, starting with Oracle PL/SQL Programming Fundamentals LiveLessons, as the entry point for understanding this programming language. Being an expert with both PL/SQL and Oracle topics, this course was easy to produce and is full of useful techniques for both the programmer and power users of Oracle-based applications. The next course was the Oracle PL/SQL Advanced Programming LiveLessons covering Tips and Techniques that really could be called: ''New Features for Developers''. I show a variety of PL/SQL programming techniques, again with hands-on labs, scripts, and code snippets of all the examples covered. The Pearson editorial team then combined these two PL/SQL courses at a great price when purchased together under the title: Oracle PL/SQL Programming: Fundamentals to Advanced LiveLessons.
Next up, we designed Oracle SQL LiveLessons for anyone new to the Oracle database and any power user who needs a better handle on the SQL query language. Again, this one is full of tips and techniques as well as hands-on lab exercises. It contains some advanced SQL topics that include ANSI joins and Analytical SQL.
I co-authored Toad for Oracle Unleashed with Bert Scalzo and I deliver the training for the corresponding video course, Toad for Oracle LiveLessons, that covers many of the same topics. Toad is a very useful and popular development and query tool for the Oracle database (and some other databases as well). This course covers topics about enhancing and customizing Toad for your needs, the important setup options, useful functionality for both programmers and power users and I even have a unit on Toad as a SQL Tuning Tool!
Last but not least is my business intelligence (BI) course, OBIEE (Oracle Business Intelligence Enterprise Edition) 11g Reports and Dashboards LiveLessons. OBIEE is Oracle's flagship BI reporting tool for their data warehouse offerings. This is one of those tools for which users really require some training to take full advantage of its many features. I cover more than just the basics here, such as how to create and manage various report types that include analytics, graphics, performance indicators, and more; as well as what's needed to turn these into useful management dashboards that contain a variety of information on a single page! This course also touches on how to take these reports and publish them using Oracle's BI Publisher environment as well.
I hope you take the time to learn from the knowledge shared in this LiveLessons video series. I have enjoyed making these, and in turn, I hope you enjoy watching and learning from them; if you do, please help to spread the word!
Please visit here to browse my complete list of titles: informit.com/hotka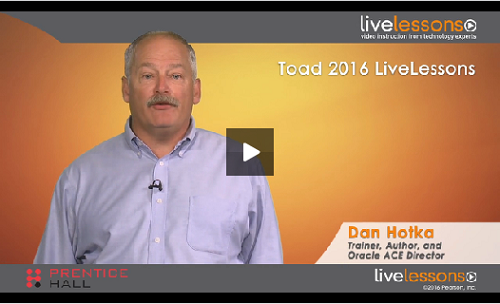 Dan Hotka
Oracle ACE Director
Author/Instructor/CEO