With today's "connected life" running 24/7, we recognize it's hard to keep up with all your favorite websites and tech resources. The IT List is here to help you cut through the noise. Check back each Friday for a quick digest of articles, resources, promotions, and other goodies worth a first or second look on InformIT.
The IT List: What You Missed This Week on InformIT [8/1/14]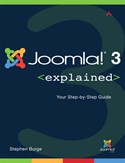 1. Hot off the Press: Sams Teach Yourself HTML5 Mobile Web Development in 24 Hours is an interactive online course — featuring step-by-step lessons, expert video instruction, live code editing, and interactive quizzes — that quickly teaches you to build rich, robust HTML5-based mobile apps that run on iOS or Android smartphones and tablets.
Want more? Three sample lessons are available for FREE online exactly as they appear in the full online Learning Lab with complete video walkthroughs, code editing sandboxes, and interactive quizzes (HTML5 browser required). Try them out today!
2. Agile Resource Center: For a limited time, save 40% off the list price of recommended books, eBooks, and video training in the InformIT Agile Resource Center when you use discount code AGILESALE40 during checkout. See what's new in Introductions & General Guides | Culture, Leadership, & Teams | Development Practices | Enterprise | Product & Project Management | Testing (TDD).
3. Ask an Expert: Matt Weisfeld, author of The Object-Oriented Thought Process, Fourth Edition, travels through time to show the evolution of accessor methods to improve data security and integrity in both structured programming and object-oriented programming. Along the way, we learn about the mechanisms in place today to help produce robust and secure code.
4. VCP550 Exam Prep: As the demand for IT professionals with data center virtualization skills increases, having a VMware certification helps to distinguish you in the IT professional market. Watch sample content from Bill Ferguson's new VCP5-DCV Official Cert Training (Video Training) from VMware Press.
Have a great weekend. See you next Friday!